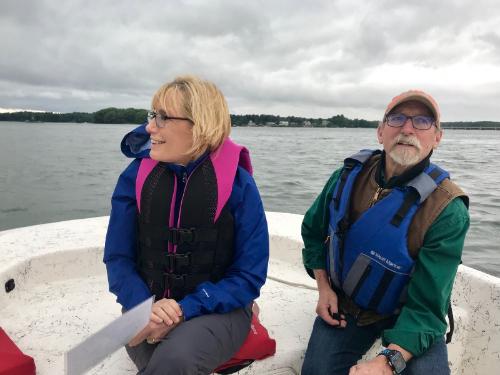 Senator Hassan tours Great Bay Estuary in Newington.
NEWINGTON- Senator Maggie Hassan today took a boat tour of the Great Bay Estuary, highlighting the importance of protecting the Great Bay's ecosystem and combating climate change. The Senator met with Great Bay-Piscataqua Waterkeeper, Melissa Paly; Coastal Training Program Coordinator at the Great Bay National Estuarine Research Reserve, Steve Miller; and Ocean Campaign Director at the Conservation Law Foundation, Jenn Felt.
"The Great Bay is one of our state's many treasured natural resources, playing a critical role in our economy and our high quality of life," Senator Hassan said. "Unfortunately the future of the Great Bay is threatened by the very real and serious impacts of climate change. I am committed to working across the aisle to combat climate change and protect one of our state's most important economic engines – our environment."
Senator Hassan has long fought to protect New Hampshire's natural resources and mitigate the impacts of climate change. As Governor of New Hampshire, Senator Hassan signed bipartisan bills into law to better monitor environmental conditions in the Great Bay and to strengthen coastal resiliency in the face of climate change. Senator Hassan recently spoke on the Senate floor about the urgent need to act to combat climate change. Earlier this year, the Senator also introduced a bill to create a national study on net metering, which would help support the growth of clean energy in the state and lower energy bills for hard working Granite Staters.
###