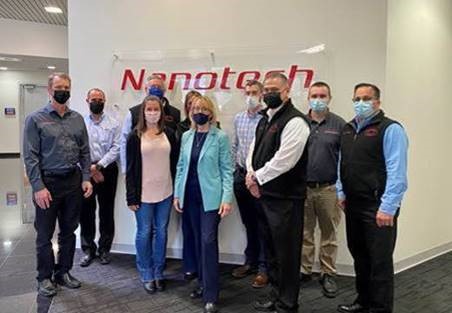 Senator Hassan with members of the Nanotech leadership team
SWANZEY – U.S. Senator Maggie Hassan visited Moore Nanotechnology yesterday, which produces ultra-precision machining systems used in consumer electronics, automotive, space, medical, lighting, defense, and aerospace technologies. Senator Hassan spoke with members of the Nanotech leadership team, and thanked them for the innovative work that they are doing in order to drive New Hampshire's economy forward. They also discussed regional workforce challenges, career pathway partnerships, and encouraging women and girls to pursue STEM careers.

"Innovative businesses like Nanotech are at the core of our state's success," said Senator Hassan. "I appreciated hearing more about how Nanotech has been collaborating with Keene State College and other community partners to develop a workforce pipeline. I have long worked to support career pathway strategies that prepare Granite Staters with the skills that they need for in-demand jobs, and will continue to advocate for this in the Senate."

Mark Boomgarden, Nanotech's President and CEO, shared, "We truly enjoyed our visit with Senator Hassan, showcasing Nanotech's products and capabilities. Her interest in advancing technology in the US, along with developing the local workforce, is key to all manufacturers in the Monadnock region. We look forward to collaborating with the Senator and her staff."

Senator Hassan led her colleagues in reintroducing the bipartisan Gateway to Careers Act, her first bill of the new Congress, to help expand economic opportunity for hard-working Americans and support innovative businesses in need of a strong workforce. The Gateway to Careers Act would provide grants to support partnerships between community or technical colleges and workforce development partners such as state workforce development boards, industry associations, and community-based organizations. Senator Hassan also joined Senator Susan Collins (R-ME) in introducing the Success for Rural Students and Communities Act, which would assist rural students in reaching their higher education goals and connect them with employment opportunities in their hometowns. 
###